2 mins read
Australia, Japan, and U.S. Counter Beijing Aggression with Navy Drills in South China Sea
The trio allies; Australia, Japan, and the U.S. have activated their Naval assets in the South China Sea this week, gathering off the western Philippines to highlight their commitment to the rule of international law in the region after a recent show of Chinese aggression in the disputed waters, Filipino security officials said Sunday.
Chinese coast guard ships recently used water cannon against Philippine vessels in the contested waterway where disputes have long been regarded as a potential flashpoint and have become a fault line in the rivalry between the U.S. and China in the region.
The drill will include three aircraft and helicopter carriers sailing together in a show of force and undertaking joint drills,
Their commanders are set to meet with Filipino counterparts in Manila after the offshore drills, two Philippine security officials told the outlet, as China shows no sign of stopping its relentless push to colonize the area as part of its imperialistic ambitions.
This is despite Beijing having its claim to "territorial sovereignty and marine rights" to almost the entire region categorically rejected in 2016 by an international tribunal in The Hague.
The move comes at the same time the Biden administration is building naval forces in the Middle East across the disputed Strait of Hormuz in a bid to counter aggression from Iran.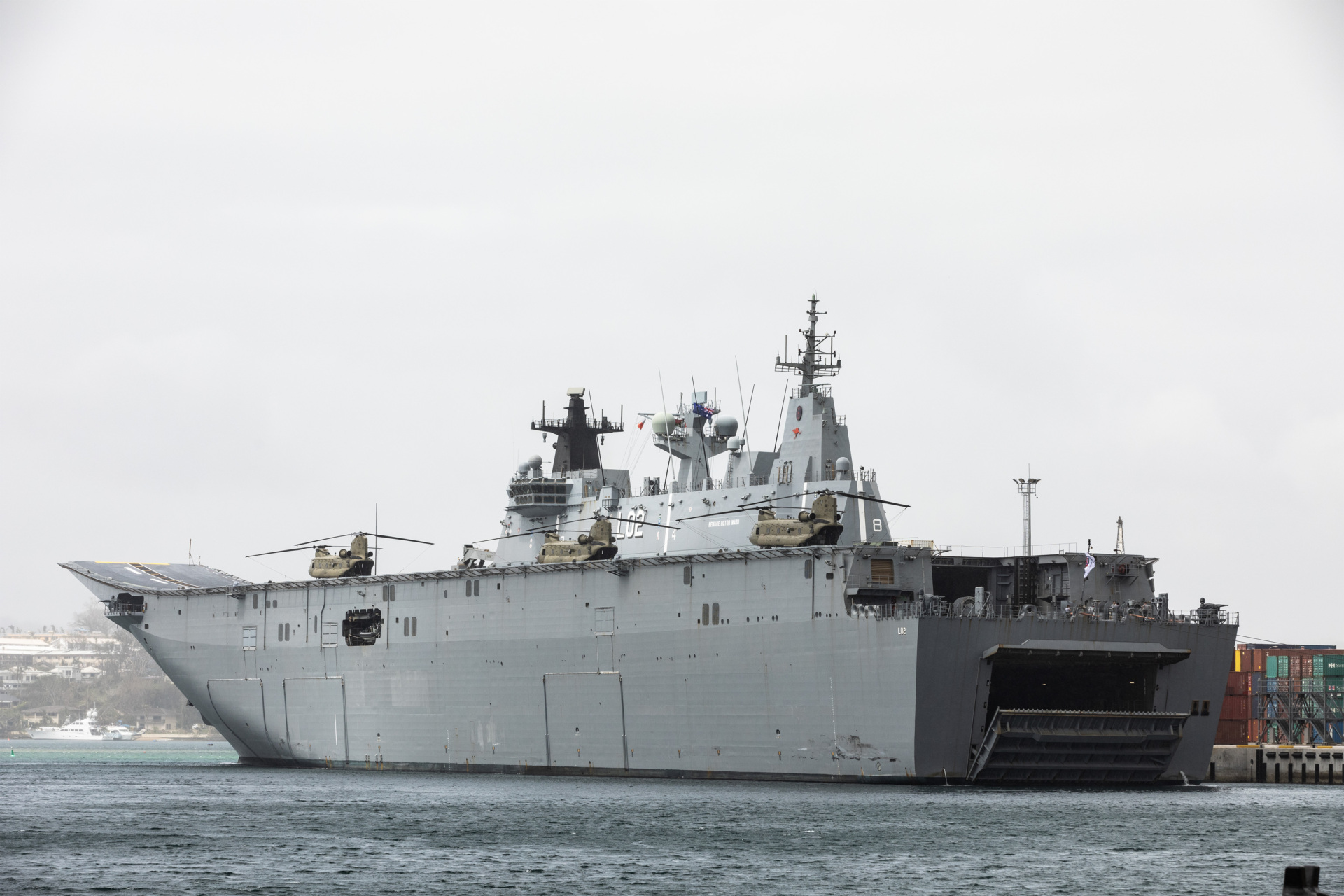 HMAS Canberra berthed alongside in Port Vila, Vanuatu, in support of Operation Vanuatu Assist 2023. The ship is now underway and headed for the South China Sea to join allies Japan and the U.S. in exercises.
U.S. warships have moved to the area while the Pentagon considers offering armed sailors and U.S. Marines to commercial ships transiting the key strait in an attempt to foil any plans by Tehran to stop, board, and seize ships in international waters as they pass through the key seaway.