2 mins read
U.S. Secretary of State Antony Blinken Makes a Surprise visit to Kyiv,Expected to Announce 1Billion US Aid
Kyiv Air Defense Systems Achieves 100 Percent Accuracy
The State Department made no statement about the surprise visit of Blinken's trip, but it comes after President Volodymyr Zelenskiy announced a major shakeup at the Defense Ministry amid mounting concerns about wartime corruption involving military contracts.
Blinken's visit comes as Russia again targeted the Ukrainian capital with cruise missiles. In a post on Telegram, Serhiy Popko, the head of the Kyiv city military administration, said air defenses shot down the missiles, and there were no casualties or damage to the city in the early morning attack. All the missiles were intercepted
In Izmayil, a Danube River port southwest of Odesa, at least one person was killed in Russian drone attacks that lasted for three hours. Oleh Kiper, the region's governor, said on Telegram.
The port and some connected agricultural infrastructure were also damaged, he said. Zmayil borders NATO-member Romania, which has become a major route for Ukrainian grain and agricultural shipments out of the country following Russia's withdrawal in July from a United Nations deal that had allowed maritime shipments of Ukrainian products via the Black Sea.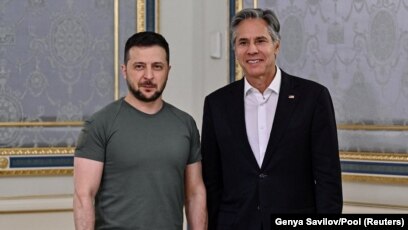 Earlier this week, Ukrainian officials complained that Russian drones had hit Romanian territory, a claim that Bucharest later "categorically denied."
Romanian President Klaus Iohannis said on September 5 that the attacks had taken place "very, very close" to his country's border.
The US Secretary is expected to announce 1 billion dollars worth of military support to Kyiv. The US and European countries have vowed to support Ukraine as long as the Russian aggression lasts. The US and European countries have supplied weapons to Kyiv to kick out the terrorists with the latest weapon being the cluster bomb shells which the Ukranian forces are effectively using against the enemy. Ukraine is currently awaiting the ultimate firepower -The F16 TO FINISH THE JOB.