3 mins read
Hurricane Hilary Path, Tracker as Storm Could Bring 'Significant Impacts'
Hurricane Hilary is likely to bring powerful winds, high rainfall, and the possibility of flash flooding to parts of southern California and Nevada in a matter of days, forecast maps of the path of the storm show.
The cyclone was upgraded to a Category 4 storm  on Friday morning after meteorologists at the National Weather Service (NWS) warned of "significant impacts" to the southwest U.S. and Mexico at the weekend.
In its latest update on Friday morning, the weather agency said the storm "remains large" and had "rapidly intensified" by 65 knots (75 miles per hour) in the previous day, and "could strengthen a little more during the next 12 hours or so."
Most hurricanes to hit California in the past have been downgraded before making landfall, while only a handful of tropical storms have reached the West Coast in any capacity. The most recent, Hurricane Nora, brought winds of up to 130 miles an hour in 1997
The NWS  forecasts heavy rainfall from Hillary may produce areas of flash flooding and result in landslides over portions of the Baja California Peninsula from late today into late Sunday.
It also sees impacts from rainfall in other southwestern states, which are expected to peak into Monday. "Flash, urban, and arroyo flooding is expected with the potential for significant impacts," it said in a forecast discussion.
A map showing the predicted rainfall across southern California and the surrounding states from 2 a.m ET on Friday to 8 a.m. next Wednesday shows areas near San Diego and Los Angeles could see between 10-15 inches of rain over the period, with as much as four inches falling in other parts.
The NWS said the "threat of hurricane-force wind impacts is increasing along the west-central coast," in particular Baja California, with tropical storm conditions expected to show in the Golden State through the weekend.
"Although it is too soon to determine the location and magnitude of these impacts, interests in these areas should monitor the progress of Hilary and updates to the forecast," meteorologists at the agency cautioned.
Trackers show there is a 30-40 percent chance tropical storm-force winds—with an average speed of 39 miles an hour—will reach San Diego by Wednesday and a 20-30 percent chance they will reach Los Angeles in the same time. The earliest predicted arrival of storm-force winds in California is by 10 p.m. ET on Sunday.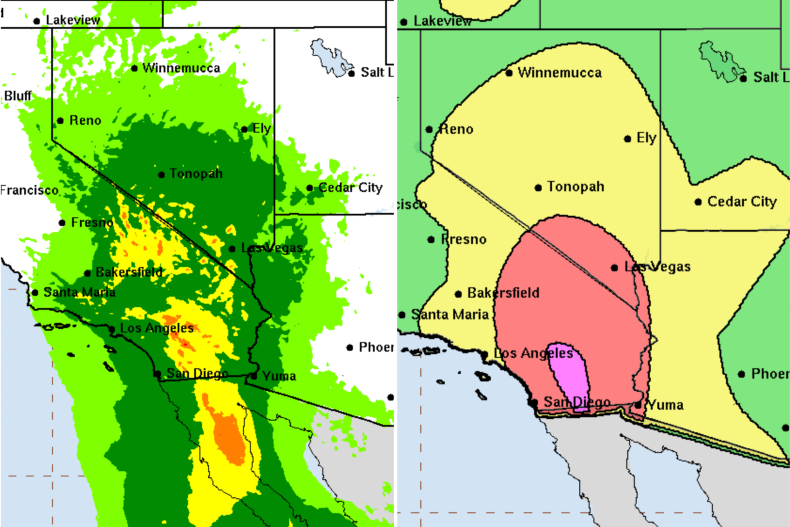 Maps show the expected rainfall between August 18, 2023 and August 23 across the southwest due to Hurricane Hilary, with light green indicating 1-2 inches and orange indicating 6-10 inches (L) and (R) the areas most likely to see flash flooding, with the highest, 70 percent probability in purple and the lowest, 5 percent, in light green.
However, it added that "Hilary's exact landfall probably won't make much difference when it comes to the expected hazards and impacts in the region."
Meteorologists are predicting that large swells could occur along the coast, reaching into the Gulf of California later this weekend. But they also give a 70 percent chance of flash flooding occurring from San Diego northwards, according to one map.